Obi-Wan Finale - The Loop
Play Sound
| | | |
| --- | --- | --- |
| | The Rift | |
The Rift is the most southeastern of the nine Holds of Skyrim and part of the Ebonheart Pact. It is one of the four oldest holds in Skyrim, known collectively as Old Holds. The city of Riften is home to the Thieves Guild.
Skyshard locations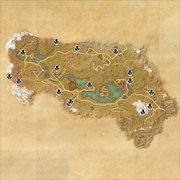 With special thanks to Garkin, who created the SkyShards v0.7 add-on!

There are 16 skyshards scattered around the Rift.
Places of Interest
Nimalten

Boulderfall Pass

Fallowstone Hall

Fullhelm Fort

Geirmund's Hall

Ivarstead

Shor's Stone

Skald's Retreat

Frostmoon Farmstead

Treva's Farm

Vernim Woods

Forelhorst

Lost Prospect

Trolhetta

Autumnshade Clearing

Eldbjorg's Hideaway

Grethel's Vigil

Honeystrand Hill

Jenedusil's Claw

Linele Skullcarver's Camp

Mammoth Ridge

Smokefrost Vigil

Three Tribes Camp

Trollslayer's Gully
Dungeons and Ruins
Avanchnzel

Blessed Crucible

Broken Helm Hollow

Faldar's Tooth

Fort Greenwall

The Lion's Den

Shroud Hearth Barrow

Snapleg Cave

Honrich Tower

Northwind Mine

Pinepeak Cavern

Taarengrav
The Rift Characters
Centurion Gjakil

Fridda

Irna

Helgith

Captain Jardirr

Malsia
Quests
Geirmund's Guardian

Lost Companions

River of Names

Securing the Pass

Song of Awakening

Guard the Knowledge

Those she Devours

The Thunder Breaks

Approaching Thunder

A Giant in the Smokefrost Peaks

Shattered Hopes

The Shards of Wuuthrad

Save your Voice

Trial of the Spirit

Tomb Beneath the Mountain

Research Subject

Shroud Hearth Barrow

Pinepeak Caverns

A Business Proposition

Concealed Weapons

To Nimalten

Through the Shroud

Breaking the Coven

Yngrel the Bloody

Fierce Beasts of Ivarstead

Redguard on the Run

Where the Frostheart Grows

Problems into Profit

The Shackled Guardian

To the King

Ritual at the Dragonshrine

Blood Upon the Soil

Pulled Under

The Farmer's Champion

Into the Outside

All's Fair

Aiding Sigunn

In his Wake

A Ritual in Smokefrost Peaks