Obi-Wan Finale - The Loop
Play Sound
| | | |
| --- | --- | --- |
| | Stonefalls | |
Stonefalls is located in western Morrowind and is part of the Ebonheart Pact.
"

The ashfall from the volcanoes of the Vrlothi Mountains and from great[sic] Ash Mountain itself is Stonefalls' bane and benefit, fertilizing the soil where the land isn't too arid to grow crops. It was here that the recent invading army from Akavir met its bloody end.

— loading screen
Places of Interest
Ebonheart

Kragenmoor

Senie

Hrogar's Hold

Sulfur Pools

Heimlyn Keep

Iliath Temple

Lukiul Uxith

Fort Arand

Fort Virak

Hrogar's Hold

Sathram Plantation

The Harborage

Ash Mountain

Brother's of Strife

Tormented Spire

Othrenis

- a necropolis

Starved Plain

- a battlefield with ghostly apparitions, right outside of Davon's Watch

Vivec's Antlers
Dungeons
Crow's Wood - can be accessed via a portal in a mine in Davon's Watch

Emberflint Mine

Hightide

Inner Sea Armature

Mephala's Nest

Sheogorath's Tongue

Softloam Cavern
Bosses for Groups
Cave of Memories

Shivering Shrine

Shipwreck Strand

Strifeswarm Hive

The Brahma's Grove

The Matron's Clutch
Dolmen/Dark Anchors
Daen Seeth Dolmen

Varanis Dolmen

Zabamat Dolmen
Dungeons
Sheogorath's Tongue

Softloam Cavern

Mephala's Nest

Vivec's Antlers
Skyshard locations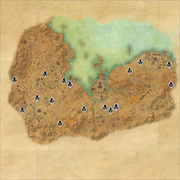 With special thanks to Garkin, who created the SkyShards v0.7 add-on!

There are 16 skyshards scattered around Stonefalls.
Stonefalls Quests