Line 4:
Line 4:
 

The Suthay-raht are the most common breed, and at launch, all player-character and non-player-character Khajiit in [[The Elder Scrolls: Online]] will be Suthay-raht.

 

The Suthay-raht are the most common breed, and at launch, all player-character and non-player-character Khajiit in [[The Elder Scrolls: Online]] will be Suthay-raht.

 
 
−

Khajiit are like cats. When you meet one of them their feline nature will be most prevalent. Though they have a strange appearance they are known for their agility and ability to move stealthy. They are perfect thieves and assassins. You should know that they are infamous for their trade of Moon sugar. Khajiit like to travel and trade. It is one of the first races of Tamriel.

+

Khajiit are feline . Though they have a strange appearance they are known for their agility and ability to move stealthy. They are perfect thieves and assassins. are infamous for their trade of sugar. Khajiit . one of the first races of Tamriel.

 
 
 

== Sources ==

 

== Sources ==
---
Revision as of 15:04, 23 January 2013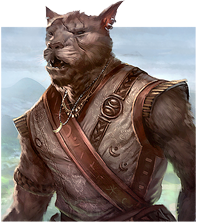 The Khajiit are the race of feline humanoids who originate from Elsweyr and one of the three races representing the Aldmeri Dominion. There are four sub-species of bipedal Khajiit: The Suthay-raht, the Ohmes-raht, the Cathay-raht and the Tojay-raht.
The Suthay-raht are the most common breed, and at launch, all player-character and non-player-character Khajiit in The Elder Scrolls: Online will be Suthay-raht.
Khajiit are a proud feline race. Though they have a strange appearance they are known for their agility and ability to move stealthy. They are perfect thieves and assassins. However, they are also fearsome warriors, proficient with bladed weapons. They stand proudly at the forefront of every battle. They are infamous for their trade of moon sugar, which can be refined into skooma. Khajiit traders are often seen wandering Nirn. They were one of the first races of Tamriel.
Sources