Line 19:
Line 19:
 

! width=60 | Image !! width=100 | Name !! Description

 

! width=60 | Image !! width=100 | Name !! Description

 

|-

 

|-

−

| [[file:Crawlers.png|center|Crawlers]] || [[Crawlers]] ||

+

| [[file:.png|center|]] || [[]] ||

 

|-

 

|-

−

| [[file:Guts.png|center|Guts]] || [[Guts]] ||

+

| [[file:.png|center|]] || [[]] ||

 

|-

 

|-

−

| [[file:Insectparts.png|center|Insect Parts]] || [[Insect Parts]] || These can be harvested from butterflies and torchbugs.

+

| [[file:.png|center| ]] || [[ ]] ||

 

|-

 

|-

−

| [[file:Worms.png|center|Worms]] || [[Worms]] ||

+

| [[file:.png|center|]] || [[]] ||

 
+

|-

 
+

| [[file:Guts.png|center|Guts]] || <div id="Guts">[[Guts]]</div> ||

 
+

|-

 
+

| [[file:Insect Parts.png|center|Insect Parts]] || <div id="Insect Parts">[[Insect Parts]]</div> || These can be harvested from butterflies and torchbugs.

 
+

|-

 
+

| [[file:River Betty.png|center|Minnow]] || <div id="Minnow">[[Minnow]]</div> ||

 
+

|-

 
+

| [[file:Worms.png|center|Worms]] || <div id="Worms">[[Worms]]</div> ||

 
+

|-

 
+

| [[file:Shad.png|center|Shad]] || <div id="Shad">[[Shad]]</div> ||

 
+

|-

 
+

| [[file:Chub.png|center|Simple Bait]] || <div id="Simple Bait">[[Simple Bait]]</div> ||

 
+

|-

 
+

| [[file:Chub.png|center|Used Bait]] || <div id="Used Bait">[[Used Bait]]</div> ||

 

|}

 

|}

 
 
Line 31:
Line 45:
 

* [[Fishing Achievements]]

 

* [[Fishing Achievements]]

 
 
−

[[Category:Fishing]]

+

[[Category:Fishing]]
---
Revision as of 19:20, 25 March 2014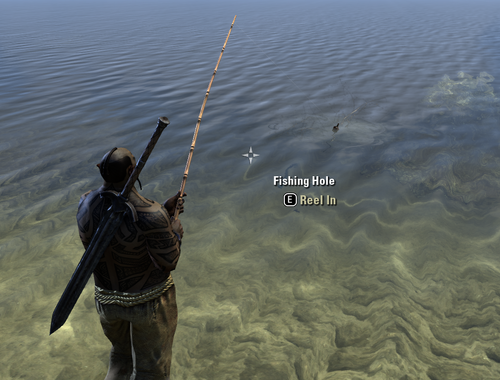 To start fishing in the game, the player must find an appropriate bait first. Killing insects or smaller animals should provide the player with enough material to start a first fishing trip in the world of TESO. There is no need to buy a fishing pole, the player character already has one.

To use the bait, one must target an active fishing hole and press

to bring up the Quickslot Wheel, from which the bait can be chosen. To activate the bait, the mouse must be released.

Target the fishing hole and press

to start fishing. The player should now wait a little while til a tug on the line can be seen. Then

should be pressed quickly again to reel the catch in.

A more advanced fisherman will soon discover, which bait will be useful for the right fish.
Each zone also has twelve unique fish species.
Bait
| Image | Name | Description |
| --- | --- | --- |
| | | |
| | | |
| | | |
| | | |
| | | |
| | | These can be harvested from butterflies and torchbugs. |
| | | |
| | | |
| | | |
| | | |
| | | |
See also