Obi-Wan Finale - The Loop
Play Sound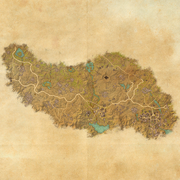 Craglorn is the first adventure zone in The Elder Scrolls Online, which offers new challenges for groups of veteran players (VR10+). The zone is designed for 4 player groups and playes can reach the new level cap of VR12 in this area. The area brings a new storyline and special rewards and is located between Bangkorai (Hammerfell) and Cyrodiil, so it shares similarities of both zones. There aren't any Dark Anchors on this map, but burial sites (5 in the west) and magical anomalies as new events.

The Zone can be reached by talking to the Star-Grazer Herald in Mournhold (Deshaan), Elden Hollow (Grahtwood) or Wayrest (Stormhaven).
"

DIRE OMENS

The stars have gone dark. Tamriel's guardian constellations — the Mage, the Thief, and the Warrior — have disappeared, and Craglorn is in chaos. No lone hero can drive back the threats facing the region.


THE CELESTIAL THREAT

Deadly forces have overrun the desolate region between Skyrim and Cyrodiil. An army of ancient Yokudans lays siege in the west, led by a being that calls itself the Celestial Warrior. In the east, a torrent of atronachs defiles the land under the command of another of these beings, the Celestial Mage. What drives them to their acts of destruction? Journey to Craglorn to unravel the mystery of the constellations, but don't go alone.




Explore Craglorn and unravel the mystery of the missing constellations
Discover quests and delves made for groups of four
Take on 12-player Trials and get on the leaderboards
Obtain powerful weapons and armor

— From the official The Elder Scrolls Online site
Trials or Raids
(for a 12-person group)
Aetherian Archive

Hel Ra Citadel
Foes
Celestial Mage

Celestial Warrior

Air Atronach

Ancient Yokudan Warriors
Crafting
With the Craglorn patch, the set bonus got a slight change. One can find a crafting station in the north near Lanista's Waystation.
Materials
Skyshards
There are 12 skyshards in Craglorn.
Places of Interest
If all nine locales are explored, an achievement will be granted.
Bangkorai Gate
Inazzur's Hold
Lake of Teeth
Lanista's Waystation
Ogondar's Winery
Proving Grounds Dolmen
Scorpion Ravine
Taborra's Camp
Thunder Falls Camp
Settlements
Belkarth

Elinhir

Rahni'Za

- School of Blades

Shada's Tear