Obi-Wan Finale - The Loop
Play Sound
| | | |
| --- | --- | --- |
| | Bleakrock Isle | |
Bleakrock Isle is a small, barren island south of Solstheim. It is part of the Ebonheart Pact. This was the starting point for the player after the character generation and the tutorial in the beta. Now a boat will bring the player to the island from the new arrival point Davon's Watch.
Skyshard locations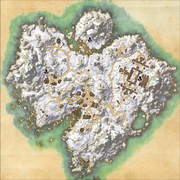 There are 3 skyshards scattered around the Bleakrock Isle.
High atop the shrouded barrow

Skyshroud Barrow, just off the largest altar and the cave door. A large stone in front of the door hides it. As you pass the stone you may not see it unless looking. Door 5 steps stone, 2 steps the shard.

A Hollow victory beyond the iceflows

Above Orkey's Hollow. At Rolunda's Campfire. Below Orkey's hollow where you fight bears and get Rolunda's brother out of ice.

To dig too deep would be no Folly

Western Hozzin's Folly. Have to have a disguise to get in the mine but can get to the shard with only 1 fight.

With special thanks to Garkin, who created the SkyShards v0.7 add-on!
Places of Interest
Bleakrock Isle Quests
Characters found on the Island
Gallery