Obi-Wan Finale - The Loop
Play Sound
| | | |
| --- | --- | --- |
| | Auridon | |
Auridon is the second-largest island in the Summerset Isles, part of the Aldmeri Dominion. It is the only playable region of the Summerset Isles.
"

The second largest of the Summerset Isles, Auridon has always served the High Elves as a buffer between their serene archipelago and the turmoil of Tamriel. The Altmer of Auridon have been hardened by generations of repelling invaders, pirates, and plagues.

— loading screen
Locations
Cities
Areas/Towns/etc
Caves/Ayelid Ruins/etc
Dungeons
Mundus Stones
Points of Interest
Beacon Falls

Buraniim Isle

Eastshore Islets Camp

Errinorne Isle

Hightide Keep

Isle of Contemplation

Nine-Prow Landing

Smuggler's Cove
Skyshard locations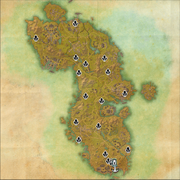 There are 16 skyshards scattered around Auridon. With special thanks to Garkin, who created the SkyShards v0.7 add-on!
Auridon Quests
Vulkhel Guard Objectives
Aicessar's Invitation

Curinure's Invitation

Anchors from the Harbour

Corruption Stones

The Serpent's Beacon

Long Lost Lore - Mages' Guild Quest

The Racer

Assisting the Assistant

Final Blows

Preventative Measure

Simply Misplaced

The Dangerous Past - Fighters' Guild Quest

The Mallari-Mora

Altmeri Relic

Blessings of the Eight

Spirited Away

Banishing the Banished

The Great Tree

Take Me Home

The Jester's Joke
Castle Rilis Objective
College of Aldmeri Propriety Objective
Dawnbreak Objective
To Dawnbreak

Through the Ashes
Ezduiin Objective
Firsthold Objective
Breaking the Barrier

Sever All Ties
Glister Vale Objective
Greenwater Cove Objective
North Beacon Objective
Eye Spy

The Wayward Dagger
Mathiisen Objective
To Mathiisen

Putting the Pieces Together

The Unveiling
Phaer Objective
The First Patient

Plague of Phaer
Quendeluun Objective
Shattered Grove Objective
A Village Awakened

Silent Village
Skywatch Objective
To Skywatch

Lifting the Veil

The Veil Falls

Wearing the Veil
Silsailen Objective
Real Marines

Teldur's End

Silsailen Rescue
Tanzelwil Objective
Toothmaul Gully Objective
The Toothmaul Ploy

Well-Armed Savages