m

(expand)

Line 1:
Line 1:
 

[[File:AldmeriFaction_Altmer.png|60px]] [[File:Race Altmer.png|right|{{PAGENAME}}]]

 

[[File:AldmeriFaction_Altmer.png|60px]] [[File:Race Altmer.png|right|{{PAGENAME}}]]

−

The '''{{PAGENAME}}''', or High elves, are one of the three races representing the [[Aldmeri Dominion]]. Their homeland is the [[Summerset Isles]].

+

The '''{{PAGENAME}}''', or High , are one of the three races representing the [[Aldmeri Dominion]]. Their homeland is the [[Summerset Isles]].

 

{{#ev:youtube|cx-RHP6ziac|350|right|}}

 

{{#ev:youtube|cx-RHP6ziac|350|right|}}

−

Altmer are probably the tallest among other races. They have prominently pointed ears like other elves and almond-shaped eyes. They are smaller built than humans and do not have a very strong body. So melee combat is not for them. Their physical disadvantages are compensated by intelligence and magical abilities. Altmer are known for their outstanding magical skills. They are probably the best mages in Tamriel.

+

Altmer are probably the tallest races. They and almond-shaped eyes. They are smaller built than humans and do not have a . . Their physical disadvantages are compensated by intelligence and magical abilities. Altmer are known for their outstanding magical skills. They are probably the best mages in Tamriel.

 
 
 

== Racial bonuses and penalties ==

 

== Racial bonuses and penalties ==
---
Revision as of 23:16, 24 March 2014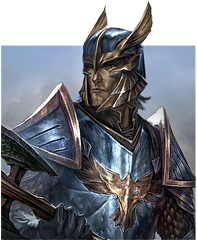 The Altmer, or High Elves, are one of the three races representing the Aldmeri Dominion. Their homeland is the Summerset Isles.
Altmer are probably the tallest of the races of Nirn. They resemble other elves with prominent pointed ears and almond-shaped eyes. They are smaller physiques built than humans and do not have a high bodily strength. This disadvantages them in melee combat. Their physical disadvantages are compensated by intelligence and magical abilities. Altmer are known for their outstanding magical skills. They are probably the best mages in Tamriel.
Racial bonuses and penalties
Their magical skill also makes them susceptible to magical attacks; however, they have strong resistance to disease.
Sources